Hello lovelies! Today, I have an excerpt to share with you for my Blog Tour Stop for Zapata by Harper McDavid hosted by TLC Book Tours.
• Paperback: 356 pages
• Publisher: Soul Mate Publishing (September 25, 2019)
When engineer Avery McAndrews is offered a last-minute assignment to the rough and tumble border town of Zapata, Texas, she doesn't think twice. Used to pushing past stereotypes, she's sure this project will earn the long-awaited promotion.
Instead, she's thrown in the crossfire between warring drug cartels and soon discovers that her captor, Javier Ramos, is more than just a power hungry drug lord. He's crazy.
As lead attorney for the cartel, it's Alejandro DeLeon's job to manage Javier. But this time, Javier's cruelty reaches epic proportions, and Alejandro finds himself wanting to risk everything to save Avery.
Running for their lives with Mexico's underworld at their heels, Avery and Alejandro discover unintended and intensifying emotions, feelings neither sought and neither seem prepared to control.

A door slammed, and Alejandro stormed across the yard, parting chickens as he went. He seemed too angry to notice Avery's plight. He moved to the back of the Jeep and dropped a black plastic trash bag to the ground. Hopefully it was trash, because this place was probably crawling with chicken poop. He slammed the rear door and retrieved the trash bag and the brown paper sack.
Unsmiling, he regarded Avery. "¡Ándale!" His voice was harsh.
"No."
He spun on his heel, took two steps, grabbed her arm, and led her toward the house. The chickens darted away as they moved. She groaned in pain. He ignored it.
The house was dark and smelled of day-old onions. Stale and muggy. He pulled her along into the kitchen. Unwashed dishes were stacked around the sink.
Alejandro slid the paper sack across the kitchen counter toward the woman. She shook her head, then peered at Avery over reading glasses. "I don't know why he thinks he should leave you here."
Avery gasped. She was American. At least her accent was. And she was almost as pale as Avery. "Leave me here?" Avery shook her head. "No. No. He can't leave me." She glanced at Alejandro for an answer, but he averted his gaze. "I have no intention of staying."
The woman raised a heavy salt-and-pepper eyebrow. "He thinks you are."
"Well, I'm not. Take me to a bus station. Call a cab. I don't care. I'll walk, damn it. Just point me in the right direction, and I won't waste your time or mine."
The woman snorted and said something in Spanish to Alejandro. He rubbed his forehead.
She chewed her lip and pushed a stray clump of gray hair off her forehead. "You'll stay. Until I say you can go." The woman's voice was gravelly. "You've got entitled bitch written all over you, and I'll be damned if I let you get him in trouble." She swore under her breath and shook a finger at Alejandro. "I'm retired, damn it. This is the last time." As if he somehow understood. She barked at Avery. "Take your stuff upstairs. Room's on the left."
"Where's he going?" Avery said.
"Ask him yourself."
"He doesn't speak any English."
"Then that's your problem, girly. When in Rome…."
Alejandro grabbed the trash bag and started up the stairs. Reluctantly, she followed. The place was hardly cozy. The bedroom was barely a step up from the brothel. A single bed buried in old newspapers occupied one corner. Canned goods flanked the opposite wall, and Venetian blinds hung unevenly from the one small window. Worst of all, the air was still, the room was stifling, and there was no fan.
"You're really going to leave me here?"
Alejandro sighed and let the plastic bag slide to the floor.
"What's with the trash bag?" She nudged it with her foot. He pulled it open. She made a small noise in the back of her throat. "My clothes!" She glanced up at him. "How did you get this?" Of course, he didn't answer. "You dropped it in the chicken poop." 
For a moment, it seemed like he was stifling a laugh.
"When are you coming back?" she asked. He turned his back to her. She stomped with all her might. Waves of pain shot up her back. She opened the dictionary and flipped through it as quickly as she could. "¿Cuando?"
He turned to her. In the fading day's light, his eyes were golden. Not brown. How had she not noticed before? His dark, thick eyelashes accentuated the striking contrast further. It only made her resent him more for ditching her.
He shrugged and shook his head miserably.
What was this? Regret for dumping her here? Some kind of apology? Never before had she had such difficulty understanding another human being. Of course, language wasn't typically a barrier. She thumbed through the book. "Why? ¿Por qué?"
He spoke quickly. She couldn't distinguish a single word. Syllables, inflections, everything melted together. There were no clues. Finally, he spoke the words slowly: "Una semana."
"Semana, semana, semana," she repeated, furiously searching for the meaning. "Week?" She gritted her teeth. "Like hell you are. I am not staying here for a week! No semanas. Do you understand?" She poked him in the chest with the spine of the book. "You have two days." She held up a pair of fingers. "Not a second more."
He drew closer. Their faces were only inches apart. He held up a hand. "Cinco dias."
"No! It's too long." She pointed at the stairs. "You heard her. That woman doesn't want me here. And I'm not living with chickens!" The final sentence came out as a shriek.
A smile spread across his face. He was actually stifling a laugh. As if he understood. How dare he?
She took a swing at him, now certain he understood the bit about the chickens. He dodged it. The smile on his face continued to grow. He touched her arm, then reached for her wrist, rubbing his thumb lightly across it. "Avery."
She tried to ignore the gesture. Ignore what it was doing to her heartbeat. His attitude was infuriating. "Three days." She pulled away from him. "After that, I'm out of here. And it's not a threat. It's a promise."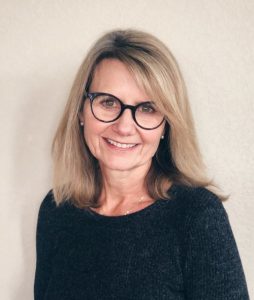 As a child, Harper McDavid watched her mother ride the rollercoaster of writing books, swearing she'd never do it herself. But some things are just hardwired, and luckily for Harper the world has moved on beyond typewriters and ten-pound manuscripts.
Harper's gritty romantic suspense incorporates her own background in science and engineering and work experience along the border. The result is a collection of brainy hard hat-wearing heroines that occasionally swap out their coveralls for the little black dress.
Harper is the mother of three daughters and lives in the foothills of Colorado with her husband, two dogs, and a fat cat. Her free time is spent traveling the world in search of that next story and perusing her local library for funny book covers.
Find out more about Harper at her website, and connect with her on Instagram, Twitter, and Facebook.
Thanks for stopping by and reading! Hope you have a wonderful day and don't forget to add this book on your TBR!